Flooding, New Orleans Commercial Building Content Cleaning, and Help from SERVPRO
3/24/2019 (Permalink)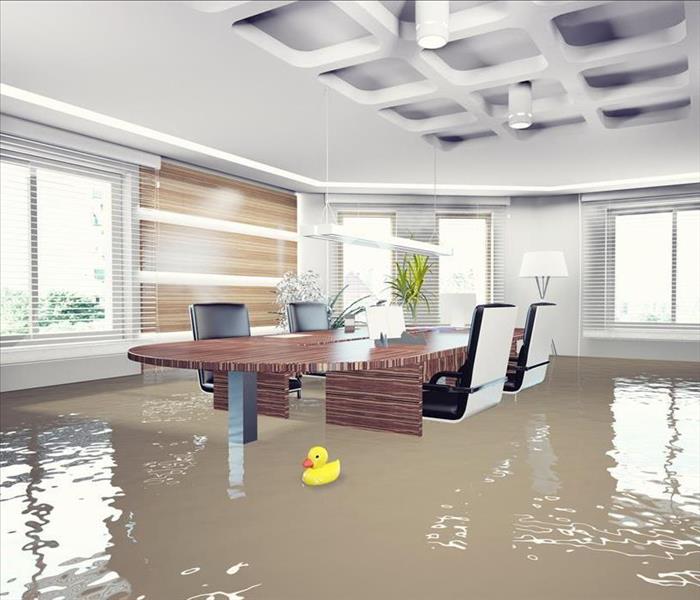 Don't Duck getting Your New Orleans Office Cleaned and Dried--Save Your Equipment and Records by Calling SERVPRO
Stormwater Removal and Restoring Businesses in New Orleans
Once the flood waters that invaded your commercial building have been extracted, it's time to see which of your belongings and building contents can be salvaged and which will have to be thrown away and replaced.

With items that require discarding during content cleaning, insurance companies in New Orleans, LA might be able to help with damage caused by Black Water. SERVPRO can also help with the claims paperwork to lessen your burden during this stressful time.

Food

All food in metal cans or retort pouches can most likely be safe to consume if they're undamaged. Before opening them, be sure to wash, rinse and disinfect items. Regarding utensils, anything made of wood that was exposed to flood water will need to be thrown out. Anything metal can be washed off and sanitized. We provide specific disinfectants to kill pathogens and microbes.

Furnishings and Carpets

Since carpets are porous, it's best you go ahead and throw them out if they're flooded since they can easily attract mold and mildew. Anything else you have in your building that's porous should probably be thrown out. Carpets and rugs that are a little damp might be salvageable, but you'll want to have them professionally cleaned. Upholstered furniture soaked through with flood water should be thrown out during content cleaning. SERVPRO recommends that all porous materials like sheetrock be partially demolished and removed. We always remove carpets exposed to Black Water; this also speeds up the drying process.

Electronics

Some electronics that might need to be restored include:

Computers
DVD players
Television sets
Laptops
Printers
That being said, it's essential you act as quickly as possible when it comes to restoring electronics. You'll also want to refrain from using your electronics until they can be looked over by a professional technician.

Work With Your Insurance Agent

No matter, if you're dealing with porous or nonporous items, electronics or furniture, all contents, should be noted and reported to your insurance company. Items you had to throw out might be covered, and there are likely other ways your insurance carrier can help get you back in business. Your insurance adjuster and your SERVPRO supervisor can work out equitable details.

Time is of the essence when it comes to content cleaning after a flood. Work with the experts from SERVPRO of The New Orleans Westbank to mitigate black water damage and reduce financial fallout. We can help 24/7 by calling (504) 348-7526.
Here is the City of New Orleans Website