Can I Clean My Flood-Damaged Home Myself?
6/3/2020 (Permalink)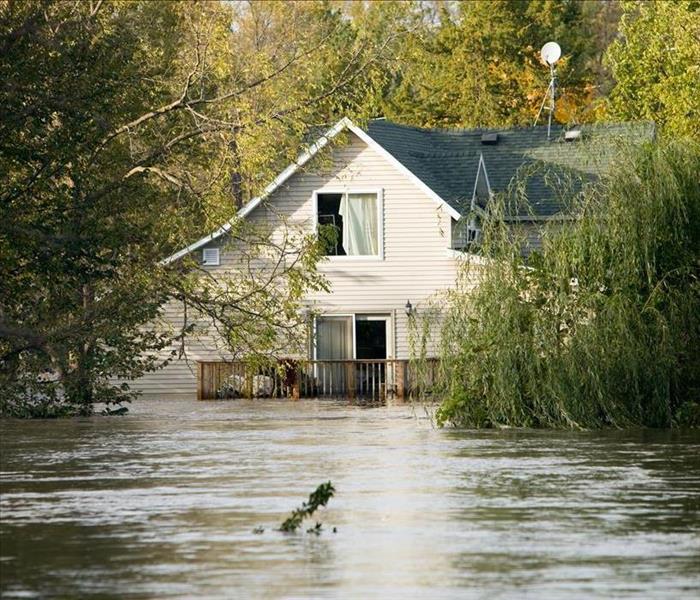 After your home suffers flood damage, you need a team of professionals to assist you with cleanup. Call SERVPRO right away! We are always available.
Floodwaters Almost Always Contain Hazardous Contaminants, So Flood-Damaged Homes in New Orleans Should Only Be Cleaned and Remediated by Trained Professionals.
As New Orleans residents know, much of the area is below sea level and prone to flooding. High average year-round rainfalls, coupled with the effects of seasonal tropical storms and hurricanes, only exacerbate the city's risk of flooding. In fact, just fifteen years ago, "The Big Easy" was the site of one of the most costly hurricanes in U.S. history when Hurricane Katrina passed through. The storm killed well over a thousand people and did tens of billions of dollars in damage. Area flood damage cleaning and remediation services, like SERVPRO, are well-equipped to handle these extreme storm-related clean-ups.
What Exactly Makes Floodwaters So Dangerous to Clean Up?
New Orleans flood damage clean-up companies classify floodwaters as "black water," or water that is unsanitary. These waters flow overland, picking up all kinds of contaminants like:
Hazardous chemicals
Dead bodies
Human waste
Soils containing harmful elements
Most of these materials carry disease-causing microbes or toxic compounds, which makes them extremely harmful to humans. Floodwaters are so dangerous that those removing it from homes must wear professional-grade personal protective equipment (PPE). Therefore, homeowners with flood-damaged homes should not try to clean and remediate their residences on their own.
What Gear Does SERVPRO Technicians Use to Remove Floodwaters and Restore My Home?
As previously noted, special equipment is necessary when dealing with flood damage. This equipment comes in the form of PPE, specialized remediation tools, and chemical treatment agents. Some of this gear includes:
Full-body suits, boots, rubber gloves, protective eyewear, and respirators with P100 vapor cartridges
Truck-mounted and portable water extractors, submersible pumps, desiccant, and refrigerant dehumidifiers, high-powered box fans and air movers, injectidry systems, and thermal and ultra-low volume (ULV) foggers
EPA-approved antimicrobials (that kill fungi, viruses, and bacteria), agents that attach to troublesome particles and remove them from the air, chemicals that reduce humidity and stop or slow microbial growth
These professional-grade resources enable SERVPRO technicians to safely and effectively deal with almost any kind of flood damage imaginable.
How Does SERVPRO Clean and Restore Flood-Damaged Homes?
Trained and experienced in cleaning up after floods, SERVPRO's experts follow a time-tested procedure to sanitize and repair your residence. This process involves:
Removing standing water with extractors and submersible pumps
Pressure washing damaged structural elements and spraying EPA-approved disinfectants on affected surfaces when entering your house
Cleaning up and appropriately discarding any floodwater debris
Evaluating structural elements and contents for salvageability (porous materials cannot be salvaged and must be professionally disposed of)
Disposing of impacted carpeting and padding
Putting into place a network of dehumidifiers, air movers, and injectidry systems to dry your home's interiors, even the most difficult-to-access areas
Using state-of-the-art foggers to inject commercial-grade disinfectants, antifungals, and deodorants into all parts of your home
After we complete our work, your home should look like it never even experienced the effects of flooding.
Considering the nature of New Orleans and its long history of being severely impacted by storm waters, residents should be well-prepared for the likelihood that one-day such issues could impact their properties. Always pay attention to weather forecasts and properly prepare before all predicted severe storms. Remain alert and be pro-active when it seems like the threat of flooding is present. Before any storm, you should make sure your roof and drainage system are clean and in good working order. If threats are severe enough and call for it, you should shut off your utilities to prevent further damage after flooding, repair and seal any foundation issues, board up all windows and openings with plywood, and strategically place sandbags around your house to divert floodwaters.
With all that said, sometimes you simply cannot avoid suffering flood damage. When you do experience the effects of a flood, it is important to remain calm, but also to act fast to resolve the resulting problems. Remember, though; you should never attempt to remediate the effects of flooding yourself. Floodwaters usually contain various contaminants, like human waste and toxic chemicals, that could endanger your health. Moreover, it often takes experienced experts to determine what can be saved and what should be discarded. Keeping beloved items and furnishings that have been impacted by floodwaters could be harmful to your health. Therefore, you need professional assistance from trained and experienced professionals, like SERVPRO, to safely handle flood damage.
Stay alert and always adequately prepare for potential flooding. If floodwaters ever impact you, contact a professional service to help you. If you ever need assistance cleaning and restoring your flood-damaged home, contact SERVPRO of The New Orleans Westbank at (504) 348-7526.