How Can I Dry Commercial Premises After Flooding?
9/8/2020 (Permalink)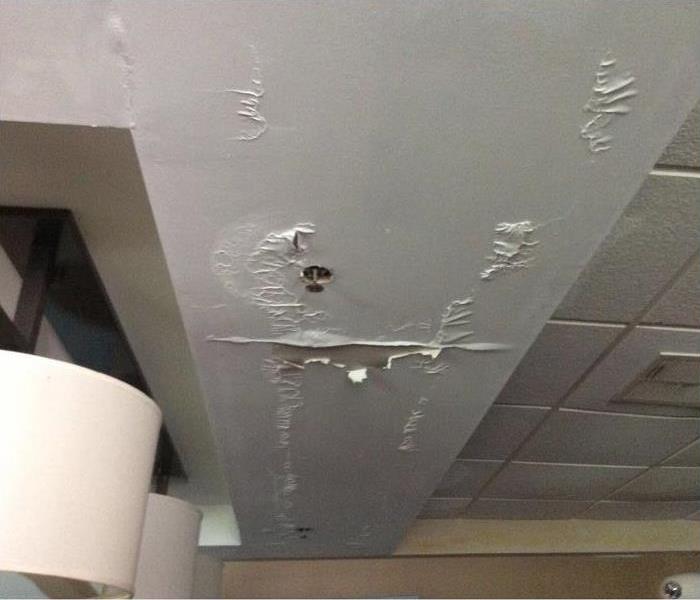 This building suffered extensive water damage when a fire sprinkler system malfunctioned. We were able to dry the damage and restore the building.
SERVPRO Establish Proper Drying Techniques to Help New Orleans Businesses with Commercial Flood Damage
How can I dry a business quickly?
We understand that temporary closure to your New Orleans business can be frustrating and expensive. Our team works with premises managers to ensure that drying property is as efficient as possible, allowing you to re-open faster. When materials become wet, evaporating moisture can form a layer of saturated, humid air above the surface. This layer can slow down drying times as water on, or surfaces have nowhere to go. SERVPRO technicians can combat this vapor barrier by ensuring air circulation remains consistent throughout your business premises. We achieve this primarily by placing air-movers in the property with precise entry and exit spaces.
How do I place the air - movers?
Use enough air-moves to create air circulation across surfaces
Balance air-moving equipment with dehumidification
Allow entry and exit points
How can I set up an efficient drying situation?
A property with commercial flood damage in New Orleans is likely to require a significant number of air-movers. However, the exact number depends upon the situation. If floodwaters have primarily affected floors, we can use less air-moving equipment. On the other hand, if there is visible wetness on walls or ceilings and fittings, carpets, and furniture, the number of air-movers must increase exponentially. SERVPRO technicians can create a circular airflow by placing air-movers at a 45-degree angle. Circular airflow can help to dry the upper areas of a property. Generally, we use one air-mover per 10 to 16 feet along walls.
How do I balance air-movers and dehumidifiers?
A low number of air-movers to dehumidifiers can slow drying
Too many air-movers can spread moist air causing secondary damage
A balanced drying system ensures dehumidifiers capture any moisture in the air
Re-opening a business after flooding is a time-sensitive issue. Contact SERVPRO of The New Orleans West Bank at (504) 348-7526.
More about New Orleans.