Has Flood Recovery Efforts Changed Since Hurricane Katrina Hit New Orleans?
11/3/2020 (Permalink)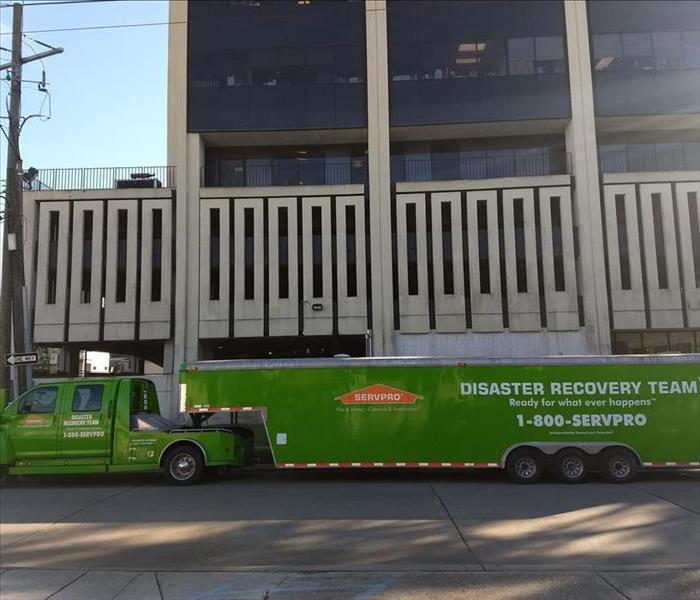 SERVPRO of The New Orleans Westbank was there back then, and they will be here for any other issues in the future.
After natural disasters like hurricanes, the vulnerabilities of the infrastructure for cities like New Orleans can get exposed.
Flooding is not a new concept to those living in New Orleans and its surrounding areas. Because of the placement of many structures beneath sea level and in otherwise low-lying regions, severe weather events can continually threaten homes and businesses throughout the city. Even crawl space flooding can directly impact structures and must get resolved as soon as possible through the efforts of competent restoration professionals like our SERVPRO team. Standing water always has the potential to compromise the structural integrity of the building. It can also allow for more severe hazards like bacterial pathogens, viral microbes, and mold growth to spread.
The Initial Impact of Hurricane Katrina on New Orleans
In what was known as the single worst engineering disaster since the tragedy of Chernobyl, the Federal levee system designed to protect New Orleans and its surrounding areas failed catastrophically on August 29th, 2005. In total, the Category 1 winds, along with the torrential rainfall, allowed for 23 breaches in the drainage canal. While flooding did not happen all at once, more than 80% of the city was compromised within two days.
Thousands upon thousands were displaced from their homes, and many died in unprecedented circumstances. It was fortunate that the city had developed successful evacuation protocols and measures before this terrible event, as an estimated 80-90 percent of the city's population were able to get away from the parish safely before the hurricane initially struck the area in late August. For those individuals that could not make it out, a large number took shelter in the Superdome that typically hosts our Saints on Sundays and Monday nights.
Building Back the City
As you might expect, the release of tens of billions of gallons of floodwater can have a widespread and disastrous impact on everything the water touches. Thousands pledged their support and their resources to build back The Big Easy, knowing that with more than 200,000 homes suffering water damage, this was something that initially seemed insurmountable. Restoration companies like our SERVPRO team contributed time and effort to help damaged homes and businesses after the hurricane. Reconstruction efforts relied extensively on volunteer efforts and the ongoing financial support of government agencies, including:
Southern Baptist Convention
To many, the city of New Orleans is still working to clean up the messes that Hurricane Katrina left in her wake. Restoring the original population before the disaster is the ultimate goal and remains a significant motivator in the placement and pace of new developments and remodeling efforts.
Preserving Our Heritage and Traditions
After Katrina, many residents worried that the feel and culture of New Orleans might be lost forever. Because the city dates back into the early 1700s, the influence of several cultures and a unique blend of Creole heritage was at stake. City officials knew that by shutting down annual festivals and events that were the community's trademarks, they risked a more significant economic fallout. Therefore, Mardi Gras and the Voodoo Experience were never shut down.
As a city, even in the throes of rebuilding and reconstruction after one of the country's worst natural disasters in our lifetime, managed to still provide a venue for the NBA All-Star Game in 2008, Super Bowl XLVII in 2012, and resumed seasons for our professional sports teams like New Orleans Saints and Pelicans as soon as facilities became usable again.
Why Is NOLA at Flood Risk?
With much of the area sitting below sea level, even with a complex system of levees and drains, heavy rainfall attributes to the potential flooding scenarios that threaten the site in every season of the year. With a magnetism of The Big Easy for severe weather events, it does not take much for the conditions to get met to allow for flash flooding and naturally rising water conditions from the higher number of creeks, streams, and marshy areas in and around the city.
To this day, structural engineers continue to develop advanced strategies to protect the city better and prevent the next large-scale catastrophe like Katrina. However, little can be done to avoid the immediate effects of the storm itself on structures. Except for the French Quarter, the Garden District, and a handful of other prominent locations throughout the city, all lower-lying areas can experience flooding after steady rains. Our SERVPRO professionals are ready to help when these situations arise.
Reliable Storm Removal Services When You Need It
With most of the city constructed in lower-lying elevations, residents from the West Bank to the downtown are susceptible to flooding scenarios like a need for storm removal in crawl spaces of New Orleans residences. Property owners have come to expect a fast and knowledgeable response from restoration professionals, and with our preparedness for emergencies, our SERVPRO team can meet this demand.
We prioritize mitigation efforts that your property needs after a flood, even in the crawlspace, as these situations can promote more hazardous conditions for the residence. There are multiple tools designed to remove any standing water that might exist. Eliminating this pooling can decrease moisture content that permits the growth and spread of microbial threats or weakens the structural integrity of joists, subflooring, and supports for the property. High-pressure pumps can be an ideal choice for extraction in crawl spaces and other areas with accessibility issues.
Crawlspace encapsulation is another possibility that many homeowners have considered after recurring flood concerns impact the property. Our general contractors work to install drainage and water removal equipment permanently. Also, we cover exposed surfaces with thick 12mm poly-sheeting as a protective barrier for any future water penetration into the area.
Flood recovery and storm removal services must happen quickly after emergencies, and our SERVPRO of The New Orleans Westbank team can show that We're Faster To Any Size Disaster. Give us a call today at (504) 348-7526.