Ready for Disasters to Come That Require Flood Water Removal for New Orleans
1/8/2021 (Permalink)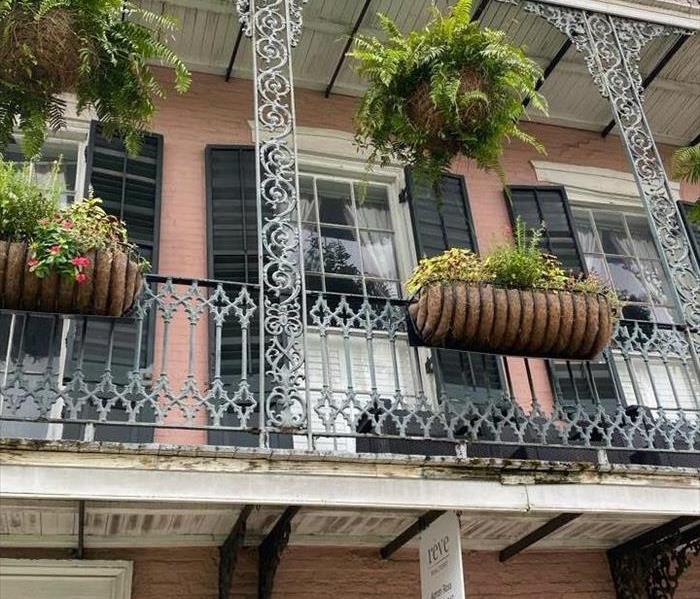 SERVPRO of The New Orleans Westbank is here for their city and property damage always. Call them today.
We have the right tools and techniques to manage threats up to the size of Hurricane Katrina.
The city of New Orleans is no stranger to devastation and disaster, especially with elements like flooding. Despite the alluring heritage and culture of the city, along with the substantial efforts of engineers and educated designers, this threat persists. NOLA had to rebuild from the ground up in many of its populated areas when Hurricane Katrina hit, which posed a considerable danger to many residents. Many homeowners relied on the fast and knowledgeable response of competent restoration specialists and general contractors like our SERVPRO team can offer. Despite the possibilities of flooding for many property owners in years past, there is an unmistakable allure of the city that makes it worth the risks involved.
Hurricane Katrina's Impact on New Orleans Properties
In late August of 2005, Hurricane Katrina would become one of the most powerful hurricanes from the Atlantic to make landfall in the United States in history. With winds recorded up to 175 mph, structures in the path of this storm stood little chance against the battering conditions. Flooding would be one of the most devastating forces incurred by the residents here in the city, however. Much of this would result from a failure of the levee system.
At one point, 80% of the city was impacted by flooding. This devastation would affect the city's communication and transportation functionality, which made evacuations and unified efforts challenging. In many ways, the city is still rebuilding more than 15 years later in the aftermath of one of history's most destructive forces. In total, the damage was estimated and 125 billion dollars, tying it with 2017's Hurricane Harvey.
How Levees Work and Additions That Better Protect the City
Levees and these systems are created from earth embankments, concrete, or steel walls intended to hold back floodwaters. These systems are only effective when the pumps involved are working to keep intruding water at a manageable level. There are two primary types of levees installed around the city; some to keep back any rising water from the Mississippi River and others to prevent overflows of Lake Pontchartrain when hurricanes and other massive storms swell the water levels.
The Army Corps of Engineers has worked tirelessly over the past decade to install and repair aging levees around New Orleans. There are more adequate defenses now than what existed in 2005 when facing the devastating Katrina storm making landfall off the Gulf of Mexico. In total, there are close to 200 miles of levee and about 100 miles of flood wall that make up the East Bank System and West Bank System protecting New Orleans from the dangers of the Mississippi River during prolonged flooding possibilities.
Why is New Orleans Continually at Risk for Flooding Moving Forward?
Perhaps one of the most considerable risks that New Orleans residents face as time progress is the city's positioning itself. Because of where the municipality was constructed, there is little that engineers can do to stop the steady sinking of NOLA, estimated at around a centimeter every year. After a specific amount of time, defense systems intended to protect the city at its current height become obsolete and require reconfiguration and reinstallation to adequately protect the residents.
The knowledge about New Orleans' sinking keeps city engineers working steadily to continue developing effective strategies to prevent catastrophic losses as were experienced during Hurricane Katrina. Even the science of flood removal has evolved to be more efficient and cost-effective, helping our SERVPRO team to offer more help during an emergency to multiple homes and businesses simultaneously.
Reimagined Pump Systems Improve the Flood Response of the City
Along with the money spent to fortify existing levees and install rocks and other measures to prevent erosion, the Army Corps of Engineers also installed new hardware in the city's drainage pump stations. In total, there are 24 pump stations designed to reduce the severities of rain or flood water by dispersing it through outfall canals that force water out without allowing water to enter through this same path. The West Closure Complex has the largest drainage pump station globally, providing a suitable defense against the forces of nature against a once-vulnerable New Orleans.
Removing Flood Water from New Orleans Homes and Businesses
Floodwater removal in New Orleans homes involves an assortment of leading equipment and extractors in our recovery inventory. Many have trusted the fast response and knowledgeable efforts of our SERVPRO team to reach flooded residences quickly and begin vital mitigation. Reducing loss in a home or business falls mostly to water removal actions taken to eliminate standing water to uncover exposed surfaces and contents that require discarding or thorough cleaning.
Much like the drainage pumps designed to remove trapped water in the city through outfalls, our extractors work to pull standing water from flooring and relocate it to nearby drains. Depending on the severity of the flooding, namely the depth of the surface water, various extractors can efficiently recover the property. Among the most common of these options for natural flooding situations are:
Wet Vacuums
Self-Priming Trash Pumps
Truck-Mounted Extractors
Debris and solids are a common concern with standing and pooling water after flooding. The presence of these particles and decaying organic matter can have multiple adverse effects on your home, including introducing bacteria and odors. Extraction can often resolve a majority of small matter through a 3-4" discharge and intake hose. Larger matter can get removed when the muck-out cleaning process occurs, and our general contracting division gets to work on the often extensive controlled demolition necessary to protect the framework and prevent the spread of bacteria and contaminants.
Flooding is a common occurrence through individual parishes of New Orleans and can be an emergency our SERVPRO of The New Orleans Westbank team must respond to quickly. We have a growing roster of experienced technicians available 24/7 to help. Give us a call at (504) 348-7526.