Who Offers Hardwood Water Damage Restoration in New Orleans?
1/10/2022 (Permalink)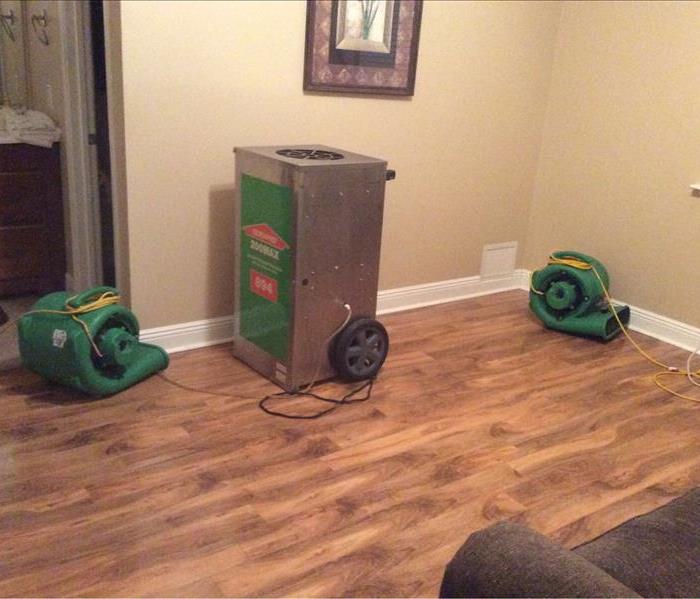 Why CALL SERVPRO for water damaged hardwood flooring in your New Orleans residence? We offer IICRC certified technicians using advanced equipment
Why SERVPRO? Skills Plus Equipment Equal Water Damage Recovery in New Orleans
In New Orleans, water damage can threaten the integrity of various types of building materials, including hardwood floors. Seeking a way to restore flooring with a minimum of tear-out and other disruption is understandable, but strategies must be research-based and reliable to avoid more expense and chaos if the fix falls short.
Why Does SERVPRO Rely on Methods Developed by the IICRC?
Our technicians master coursework and hands-on training at the Institute of Inspection, Cleaning and Restoration Certification (IICRC) to ensure we follow international best practices. The IICRC approach to water damage restoration in New Orleans relies on psychrometry, the science of drying. Commitment to proven methods is why SERVPRO invests in IICRC training and an inventory of tools and equipment that support our skilled technicians' efforts.
What Should I Expect from Professional Hardwood Water Removal?
Because moisture migrates, a hardwood floor recovery agenda includes emergency services addressing water damage to nearby walls, cabinets, or ceilings. Assessment of the overall water damage scenario precedes more focused interventions, which is why SERVPRO creates an interrelated plan for water extraction and applied structural drying. When concentrating on the floor, the following are tactics often used:
Extraction of as much liquid water as possible -- 1200 times more effective than drying interventions alone
Detection of absorbed and trapped water using mapping tools, infrared imaging, and moisture meters -- repeated to monitor progress during water damage remediation of the flooring
Use of negative air pressure (suction) systems to pull water from several layers of flooring materials -- floor mats connected to extractors via hoses attach to the hardwood surface, moving throughout the remediation to capture all detected moisture
Highly qualified workers and the best equipment are why SERVPRO of The New Orleans Westbank succeeds in restoring water-damaged hardwood floors, minimizing demolition and replacement. Call (504) 348-7526 to set up an assessment.