Does Professional Smoke and Fire Mitigation Work in New Orleans?
1/14/2022 (Permalink)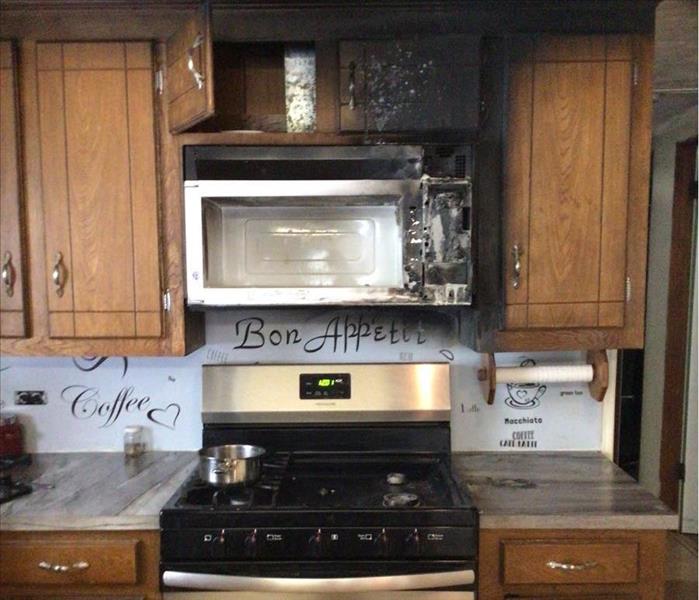 Rely on SERVPRO to eliminate pungent protein fire odors from your New Orleans mishap. We make it "Like it never even happened."
SERVPRO Experts Complete New Orleans House Fire Clean Up Including Protein-Based Soot
Kitchens are vulnerable and in need of smoke and fire mitigation in New Orleans. An unattended stovetop or tipped pan of grease can engulf the heart of your home in heat, smoke, and flames. Even with quick thinking and the help of fire extinguishers, the effect of what seems like a minor and well-controlled blaze leaves it incredibly difficult to remove residues on surfaces and pungent malodors.
Why Are Kitchen Fire Residues So Smelly and Challenging to Clean?
A kitchen fire in New Orleans deposits soot unlike dry or wet soots seen elsewhere. The composition of the smoke and soot in a kitchen fire is essentially dehydrated proteins from the foods and condiments involved. Superheated air currents pick up the tiny, dehydrated particles and spread them throughout a home in the instant after combustion, meaning the protein fire damage is everywhere. As cooking oils and grease heat, they become rancid, a chemical change that creates particularly overwhelming malodors. The greases also mix with the dehydrated food, resulting in a clear varnish-like coating on all affected surfaces.
How Can SERVPRO Help with Kitchen Fire and Smoke Damage Restoration?
Our Institute of Inspection, Cleaning and Restoration Certification (IICRC)-trained technicians are familiar with products, tools, and cleaning methods to loosen the protein-based soot and neutralize the malodors. Tactics include:
Using oil-based cleaners (solvents) to emulsify residues, severing the bond with surfaces
Increasing dwell time of the cleaning solutions to permit the solvents to break up the oily residues
Adding an abrasive to a cleaning product or employing a rough-surfaced tool to agitate the residues, loosening them
Employing advanced deodorization methods and tools that work by neutralizing the odor-bearing particles of spoiled food and oils, including thermal fogging, enzyme treatments, and hydroxyl generators
Count on the expertise of SERVPRO of The New Orleans Westbank to remove tough kitchen fire residues and smells. Call our team at (504) 348-7526 as soon as possible to explore a solution.