How to Choose Extraction Equipment for Water Damage in New Orleans
8/7/2022 (Permalink)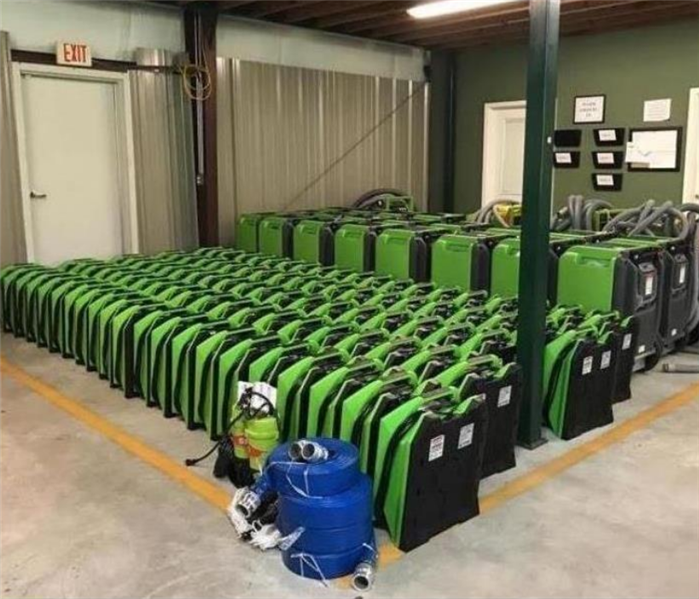 Regardless of the type or extent of the emergency, team SERVPRO has the right equipment for the task. Contact us right away to assess your property.
The Best Extraction for Each Emergency in New Orleans Homes
Choosing the correct equipment for the job has always been a staple of what makes our SERVPRO professionals so efficient in water restoration and recovery of New Orleans homes. Because of how hazardous lingering moisture can be, and the secondary effects that can result, addressing extraction concerns is a vital first step in getting a property back to preloss condition as promptly as possible.
There are several steps between the initial contact with our offices to our technicians arriving at your New Orleans home for water extraction and drying efforts. We're Faster To Any Size Disaster,which begins with our ability to mobilize quickly following that first contact and be on route promptly with our inventory of extraction and drying equipment. We have several tiers of extraction tools that we can choose from, each having its advantages for the specific situation.
Wet Vacs / Extraction Wands
These options are ideal for confined spaces or extraction needs for properties several stories from the ground level. With many massive apartment structures throughout The New Orleans Westbank, these are a portable and lightweight avenue for implementing focused water removal to get the residence ready for drying.
We have electric and gas-powered pumps, each of which also has its classifications and uses in homes and businesses affected by substantial water loss incidents. Our SERVPRO professionals lean heavily on sump pumps for standing water exceeding 2 inches in depth, as this machine provides a continual draw of the water to a nearby drain or the outside of the property.
Engine-Driven Extractor Truck
This unit is the highest capacity and strongest that our team has available, and it runs off of the fuel and engine of this service vehicle in the Green Fleet. We can utilize this option for widespread and severe water removal needs, which can often result during flash floods or substantial water loss incidents with separated plumbing.
No matter what level of standing water your home must endure, you can trust that our SERVPRO of The New Orleans Westbank team has the tools to help. Give us a call anytime at (504) 348-7526.