We Take Extra Steps When Caring For Your Belongings In New Orleans After A Flood Damage Disaster
5/31/2019 (Permalink)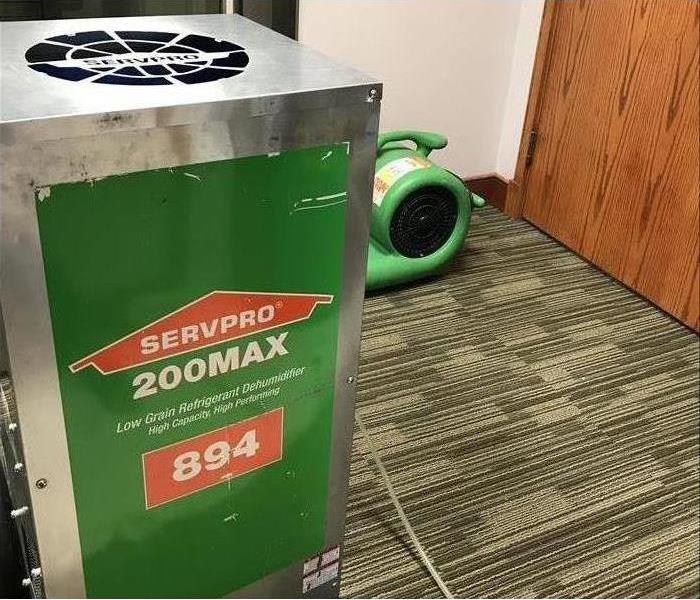 Dehumidifiers are one of the pieces of equipment we use when dealing with damage due to moisture after flood damage.
SERVPRO Takes Care When Cleaning Flood Damaged Materials in New Orleans
Not every part of your home can be dried and cleaned through our heavy-duty industrial methods of reversing flood damage. Some objects, such as delicate fabrics or furniture pieces, must be cleaned by hand with one of several specialty cleaning solutions. SERVPRO water damage restoration technicians (WRTs) work fast, but we take care to never cause additional damage to your belongings through hasty and inappropriate drying and cleaning techniques. Here are a few ways we take extra steps to care for your home and belongings.

Cleaning Expensive Fabrics
Most articles of clothing caught in flood damage in your New Orleans home can be put through one of our industrial Esporta washing and drying machines, but some garments and fabrics may be too delicate for these treatments. In these circumstances, your WRT consults our experts and guidebooks on how to restore each item individually. Some objects may be hand-washed with soapy water, while others may require special types of dry cleaning to remove soaked-in particles that can change the appearance, texture, and smell of fabrics. Through individual care, most fabric objects can be restored to the way they appeared before the disaster - Like it never even happened.
Restoring Furniture Pieces
Restoring flood-damaged furniture can be a tricky task, as improper cleaning may lead to color bleed, warped fabrics, or potential mold growth. By separating sheets, pillows, and pieces from one another, we can both dry your furniture safely and stop their colors from blending. We then apply antimicrobial and other cleaning agents through sponges and rags to hand-wash your furniture and restore its original appearance.

Handling Electronics
Most electronic devices require a specialist to dry and restore after a flood. However, removing and handling electric appliances and devices can pose a severe hazard without taking appropriate safety precautions. SERVPRO WRTs have the personal protective equipment necessary to remove water-damaged electronics from your home safely and without damaging them any further.

Miscellaneous Items
Small objects such as silverware, toys, decorations, and other non-hazardous and non-porous belongings can be sent through an ultrasonic immersion tank. These tanks can clean and sanitize your belongings very quickly without causing damage even to most breakable items.
SERVPRO of The New Orleans Westbank is a local expert in flood damage mitigation and restoration. For safe and inexpensive help with recovering from a flood, call us 24/7 at (504) 348-7526.
Click here to register for a youth summer camp.