Avoid Delays When Dealing With Water Damage in Your New Orleans Home
11/30/2019 (Permalink)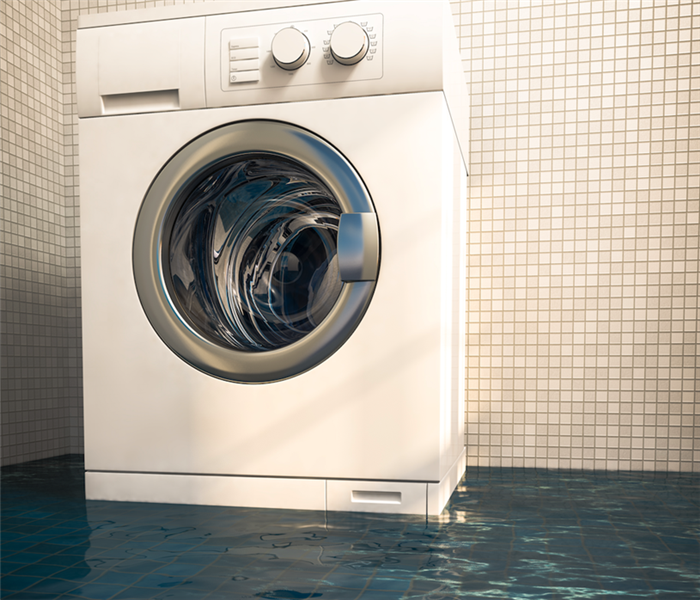 When your washing machine supply line breaks, the area can quickly become flooded. Contact SERVPRO for efficient water removal services.
SERVPRO Water Damage Cleanup Methods Lessen Drying Time in New Orleans Properties
Did you know the average service life of a washing machine supply line is just over eight years? After that, cracks or wear may cause the line to break and leave water damage in the home.

When New Orleans homes have water damage from washing machine supply line breaks, SERVPRO gets to work within hours of the initial call. The technicians know the quicker they begin restoration efforts can lessen the amount of loss for the homeowner as the water has less time to migrate and penetrate the structure.
Thorough Extraction Lessens Drying Time
SERVPRO technicians spend extra time. For a water loss event, the size of a washing machine can leave, they would use portable pumps, and if carpeted areas of the home received damage, a rover ride-on unit assists in carpet cleanup. Weighted extractor heads used in conjunction with the pumps work to push the water out of the padding. This helps with their goal to limit disruption in the home during cleanup by extracting water from and drying the carpet in place.
Specialized Techniques for In-Place Drying of Carpet
When carpet and padding dry in place, SERVPRO technicians carefully monitor the drying process. This practice ensures that the carpet gets dried completely and inhibits both foul odors and mold as issues to deal with after the fact.
The technicians often use a drying method known as "floating." In this application, the technicians loosen one side of the carpet only and set up air movers to deliver air underneath drying the carpet from the bottom up. As the moisture rises, the dehumidifying equipment captures it and ports it away.

Mold and Odor Control Treatments After Drying
Both pungent scents and mold have the potential to occur after a water loss at the residence. The technicians proactively treat any areas for odors using mild to robust methods depending on the odor level. Antimicrobial cleaners assist in limiting the ability of mold to establish colonies post-cleanup and drying.

When you have water damage in your home, contact SERVPRO of The New Orleans Westbank (504) 348-7526. The technicians are available 24/7 to make the water loss "Like it never even happened."
Click here for more information about the city of New Orleans.