How Can I Prevent Washer and Dryer Fire Damage?
8/6/2020 (Permalink)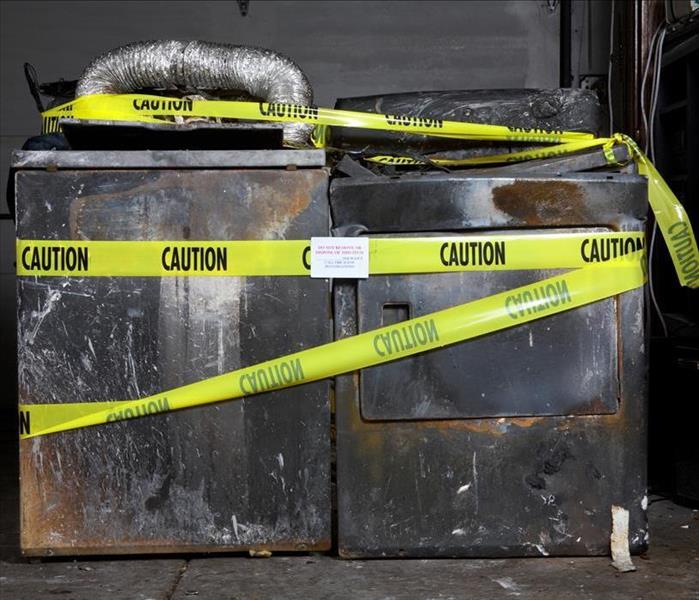 SERVPRO wants to help you prevent fire incidents by taking precautionary measures to avoid a possible catastrophe.
New Orleans Homeowners Take Steps To Reduce Fire Damage Risks.
New Orleans homeowners know how convenient it is to have a washer and dryer in the home. Those who have previously lived in an apartment with a laundry room, or had to make laundromat trips, know it is more convenient to wash your clothes in your own home.
However, washers and dryers present a fire damage risk to New Orleans homes. This is something that people do not always consider because they are appliances used to soak garments and dry them again. When people think of a home appliance fire, they most likely think of an accident with a stovetop, or perhaps of a laptop overheating and causing a spark.
When appropriately used, washers and dryers are safe for the home. However, it is good to take extra precautions to prevent them from becoming a fire damage risk.
What can I do to keep my washer safe?
There are some simple steps you can take to keep your washer safe from fires:
Do not overload your washer – follow the manufacturer's instructions on how many clothes to add at a time
Make sure your appliance is properly grounded and connected – SERVPRO recommends getting a professional installation wherever possible
Keep up with washer maintenance – check out everything from the seals to the connectors regularly
Be careful if washing clothes that have come into contact with flammable liquids like gasoline – make sure they are completely dry before washing them
What precautions should I take with my dryer?
You should ensure your dryer is connected correctly and grounded, and perform regular maintenance checks on it, just as you do with your washer. Besides, it is a good idea to:
Always use a lint filter and clean the filter regularly
Only dry the suggested amount at a time
Do not dry clothes that are not suitable for tumble drying and never, dry clothes drenched in flammable liquids
Make sure the vent pipe is not obstructed in any way
These simple maintenance tasks and guidelines are easy to follow and can help prevent the stress and cost of fire damage. Be sure that all appliance users follow the directions, and that your family agrees on who is responsible for ongoing maintenance checks.
Is there anything else I can do to make my appliances safer?
If possible, try to store your appliances away from other sources of fire, and from flammable materials. For example, if you store your washer or dryer in the laundry room, do not place flammable liquids beside it. It is also essential to read the manufacturer's instructions. Many people shove the instruction manual in a drawer, but it is good to familiarize yourself with it.
How can SERVPRO help if something goes wrong?
Sometimes even with the best of intentions, a fire breaks out. In the event of a blaze, SERVPRO of New Orleans is here to help. We aim to leave your home, "Like it never even happened."
We recommend that as soon as the blaze is extinguished, you call SERVPRO. Our technicians will arrive with all the equipment needed to tackle the fire cleanup process.
We start by pumping out any excess water from fire fighting efforts. We bring a range of water extraction equipment, including freestanding extractors, rotary extractors, and extraction wands. Untreated damp areas can lead to mold, which is why we begin with water extraction.
We assess the damage to your property, and our SERVPRO team draws up a restoration plan to get your home like new again.
Can my appliance be saved or should I dispose of it?
In most cases, saving fire-damaged appliances is not possible. However, we are here to advise you not only about your machine but also about any other items damaged in the fire. In many cases, it is possible to save personal effects and furnishings if we take action quickly enough.
What about cleaning after fire damage?
After extraction, we move on to cleaning your home. We use mechanical and chemical cleaning techniques to scrub soot particles from soft furnishings, floors, drywall, drapes, metal, and carpet. Depending on the size of the blaze, it is likely that even if we cannot save the appliance, we can save some items caught in the fire, using thorough cleaning.
When our team has finished cleaning your home, we will deodorize it using a range of air movers, air scrubbers, deodorizing chemicals, ozone machines, and fogging machines as needed. This final step leaves your home smelling fresh once more.
If you are worried about fire damage in your home, do not hesitate. Call SERVPRO of New Orleans at (504) 348-7526.
Customer satisfaction is a vital part of our services. You will receive a call from your file manager a week after our visit, to give you the chance to ask any follow-up questions or air any concerns you may have.