Advanced Equipment and Products Our Tools of the Trade for SERVPRO Technicians to Mitigate Storm Damage in New Orleans
6/5/2022 (Permalink)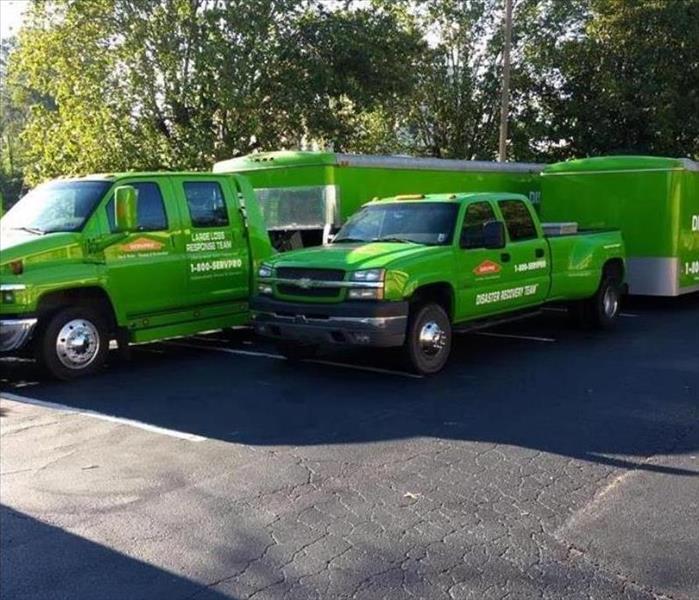 Our fleet can arrive quickly with equipment to mitigate the storm damage in your home. Contact our technicians 24/7 - 365 days a year.
Flood Damage Technicians from New Orleans Point Out How Chemicals Are Used In The Industry
Ever since New Orleans suffered from the tragedies of Hurricane Katrina, the area has recently avoided most big hurricanes and tropical storms. However, that does not mean that your neighborhood is immune to flood damage caused by stormy weather. Experts say that there are still conditions present that can create more big storms in the Atlantic Ocean for the 2022 hurricane season.
Even if one of these three big storm systems heading towards the country does not strike New Orleans and cause flood damage, the side effects from the storm can still create conditions that put your property at risk. High-speed winds and excessive amounts of rainfall can both be quite catastrophic. If water builds up outside your house, it can make its way into the interior of your home. The danger of a burst levee is always on the minds of our local residents. If the contents in your residence ever get wet as a result of a storm, it is sensible to call in a professional restoration company such as SERVPRO.
As soon as our technicians arrive at your residence, we assess the situation and figure out the best way to mitigate problems quickly. Our SERVPRO team has at their disposal industrially advanced equipment and proven techniques that aid us in providing prompt restoration services. As a part of the tools and equipment we use during mitigation, we also use a variety of chemical products to help us return your home to the way it was before the storm hit, "Like it never even happened."
When working towards restoring your house after it suffered from weather-related issues, we usually implement specialized chemicals to prevent hazards and secondary damage. Any moisture coming into your structure from the outside could be contaminated. Therefore, we can use disinfectants such as phenolics, chlorines, and quaternary compounds to sanitize affected areas by killing harmful bacteria, fungi, and parasites. If muddy water leaks into your home from the ground after a flooding situation, the project is treated the same as if it was a sewage leak and the entire affected area can need to get disinfected. Typically, after a flooding event, we apply another chemical--an antimicrobial--to thwart the development of mold colonies.
Luckily, you never have to wonder about what to do after your home in Belle Chase, Harvey or Westwego suffers from the wrath of a violent storm because our team of experts is here for you and We're Faster To Any Size Disaster. All you have to do is call SERVPRO of The New Orleans Westbank at (504) 348-7526, and we are available 24/7.