Removing Soot in New Orleans Warehouse Fire Damage Restoration
8/7/2022 (Permalink)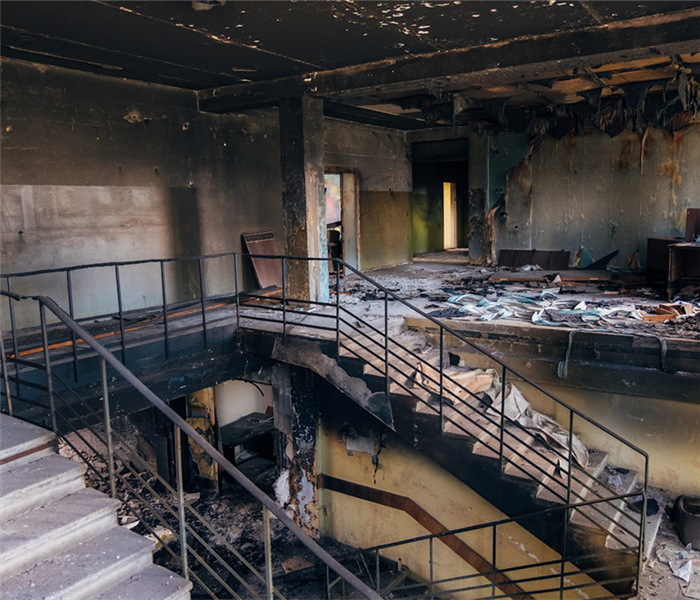 If a fire occurs in your warehouse, it needs to be remediated quickly. SERVPRO has professionals ready to provide effective services. Call us 24/7.
Fire Damage Restoration for Your Warehouse
There are many warehouses and production facilities throughout the Parish, making disasters to these structures a likelihood that SERVPRO professionals must stay prepared to face. Our team can quickly evaluate the condition of commercial properties and utilize our Large Loss equipment to help.

The Threat of Soot Damages to Wares
Fire damage restoration for New Orleans production facilities and warehouses often focuses on the earliest efforts to remove soot and smoke residues. Soot is a corrosive presence on equipment, surfaces, and wares in the building. It is important to work fast to manage these concerns with effective cleaning, air filtration, and repairs.

Equipment Needed for Inaccessible Areas
Soot is rarely only in the easy-to-reach portions of the building. The turbidity of the fire damage situation forces smoke solids upwards, caking them to the ceiling, rafters, beams, and other construction elements far above the work floor. Cleaning these residues requires powerful restoration agents but will also need equipment to get IICRC-certified technicians to the damaged portions of the building to do the work, such as:
Ladders
Scissor lifts
Manlifts
Raised platforms
Why Should You Consider Our ERP Plan?
SERVPRO has a program called the Emergency READY Profile Plan (ERP) that designates our services to help when disasters strike. You list your chain of command for restoration decisions, insurance information, key points about the building and severing utilities, and more. The objective is to reduce time wasted when restoration work should have already started. The program is free and easy to complete in a convenient app form.
Fires in the city's commercial properties rely on our Large Loss response team to clean and restore. With how fast warehouses can be soot damaged or structurally compromised, having an experienced team to help in all facets of recovery is a valuable asset. Give our SERVPRO of The New Orleans Westbank team a call to help or to set up your Emergency READY Profile at (504) 348-7526.