When New Orleans Mold Damage Should Be Removed
3/3/2023 (Permalink)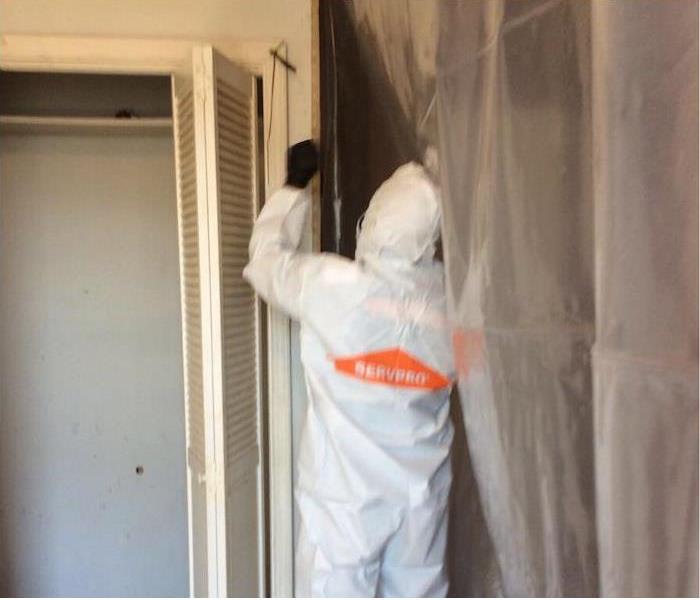 SERVPRO will get to the root of the mold problem in your New Orleans home and work to eliminate and prevent further growth. Call us today!
SERVPRO Helps with Efficient Remediation of Mold Damage in New Orleans
Environmental moisture is something property owners in New Orleans have learned to manage and contend with, including installing dehumidifiers in susceptible properties. When mold results from moist conditions, it is imperative to get professional assistance to begin remediation and cleanup before the situation gets worse.
Flooding and Mold Damage
New Orleans mold damage is more common than many property owners in the parish might think. While flooding is a typical threat to the region and its houses, these are not the only contributing conditions that can facilitate mold growth. Colonies can be supported by persistent moisture in a residence from high humidity, unresolved water damage, flooding, and dozens of other causes.
Where is Mold Colonizing?
It might not necessarily be easy to find mold in your home, even if it is likely that some degree of damage exists. Physical signs can point to active colonization, which can help you narrow the organism's location and get the appropriate restoration professionals moving to help. Symptoms of colonization include:
Spotting
Malodors
Moist Areas
Utilizing Surface Treatment Solutions
The first type of remediation possible for homes and businesses with mold damage is surface treatments with antimicrobial products. There are several types of sporicidal and biocide chemicals in our supply. Applying these products can eliminate these surface spores when mold has not penetrated beyond the surface. These chemicals also serve as an inhibitor on building materials yet to be impacted by mold colonies.
Abrasive Cleaning
The next potential remediation solution from surface cleaning is more aggressive and abrasive, introducing stronger chemicals and mechanical action or high-pressure delivery systems to destroy surface mold. Beyond antimicrobial products, additional remediation methods include:
Sanding
Soda/Media Blasting
Material Removal
How Threatening Are Airborne Odors?
Malodors can be a significant threat to the property and its occupants after damage incidents. This is a substantial obstacle to restoring comfortable living conditions, so the need for cleaning and deodorization by AMRT-Certified technicians is apparent. Odors themselves are rarely physically threatening the house's occupants, but removing the offensive odor is necessary to return to pre-mold conditions. We have multiple deodorizing products and equipment to help.
What Are the Objectives for Mold Damage Repairs?
Repairs are often necessary after damage to your home from mold organisms, so having a qualified team with a contractor license can significantly benefit these actions to be completed quickly and correctly. Some of the common needs include:
Replacing discarded materials
Controlled demolition can often be a necessary remediation approach, but that must be remedied later by replacing discarded building materials and contents.
Repairing damaged plumbing
Plumbing systems are often a considerable contributor to mold growth and development conditions. Leaks and ruptures produce damp and moist environments that impact multiple organic materials surrounding it. We can repair this utility to restore water service and prevent hazardous moisture.
Another one of the contributing advantages of a contractor license is performing the necessary work to prevent mold recurrences. Our team can take the required steps to avoid future humid or wet conditions, replacing structural vulnerabilities to replacing portions of compromised plumbing.
Mold damage in New Orleans homes can be a threatening situation for the property and its occupants without swift action. With AMRT-Certified technicians of our SERVPRO of The New Orleans Westbank team ready to mobilize quickly, we can be there fast to help when mold gets discovered. Give us a call now at (504) 248-7526.